"NOAH" starring Russell Crowe, Jennifer Connelly, Emma Watson, and Anthony Hopkins will release in theaters this Friday, March 28. "NOAH" has been the subject of concern among the Christian community for the past few months fueled by comments and speculation. Many of those commenting have turned out to be critics who have not yet screened the movie. In the past week, Christian leaders and film reviewers, including top Catholic film critic Steven Greydanus  have gone on record to praise the movie. Catholic Online was given an opportunity to provide a sneak peak of the movie's theme song by Christian artist Patti Smith.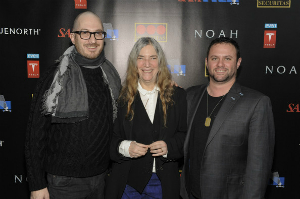 Patti Smith is flanked by Director Darren Aronofsky (left) and Producer Scott Franklin (right) during a special screening of "Noah."
---
Copyright 2016 - Distributed by THE CALIFORNIA NETWORK
Pope Francis Prayer Intentions for August 2016
Universal:
Sports: That sports may be an opportunity for friendly encounters between peoples and may contribute to peace in the world.
Evangelization:
Living the Gospel: That Christians may live the Gospel, giving witness to faith, honesty, and love of neighbor.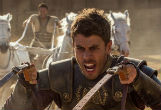 By Nikki Crawford (CALIFORNIA NETWORK)
The 2016 "Ben-Hur" remake wows with an adrenaline-inducing chariot race and heartbreaking tale of betrayal. LOS ANGELES, CA (Catholic Online) - The remake of classic film "Ben-Hur" maintains a similar story line as the 1959 version but portrays an updated version ... continue reading
---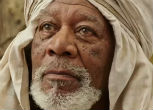 By Nikki Crawford (CALIFORNIA NETWORK)
During an exclusive interview with Catholic Online, Hollywood film producer Roma Downey offered some behind-the-scenes insight to the upcoming film "Ben-Hur." LOS ANGELES, CA (Catholic Online) - Downey, who starred in the CBS series "Touched by an Angel," is an actress ... continue reading
---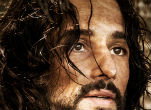 By Nikki Crawford (CALIFORNIA NETWORK)
Read the transcript of Roma Downey's exclusive interview with Catholic Online. LOS ANGELES, CA (Catholic Online) - Downey was interviewed Friday, August 12 in regards to the remake of the cinema classic Ben-Hur.The 2016 release features the talents of Jack Huston and ... continue reading
---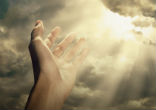 By Tonia Borsellino (CNA)
For both skeptics and believers, miracles have captivated people's attention for thousands of years. Swansea, United Kingdom (CNA) - That same intrigue led St. Anthony Communications to produce their latest film, 'Miracles.'The 35-minute documentary is the first of a ... continue reading
---

By Press Release
Pure Flix is distributing HILLSONG-LET HOPE RISE, the highly anticipated feature film that chronicles the spectacular and miraculous rise to prominence of the Australia-based band, Hillsong UNITED. LOS ANGELES, CA (Catholic Online) - Directed by Michael John Warren ... continue reading
---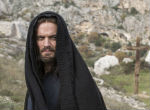 By Kenya Sinclair (CALIFORNIA NETWORK)
Looking for a new way to immerse yourself in the story of Jesus Christ? LOS ANGELES, CA (Catholic Online) - According to Engadget, virtual reality is an opportunity to fully engage an audience in a film like never before.Producers and directors are moving toward the ... continue reading
---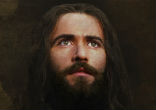 By Kenya Sinclair (CALIFORNIA NETWORK)
Millions around the world have no idea who Jesus Christ, the Son of God, is - but now 6.5 million people will be able to learn about Christ in a way they can clearly understand. LOS ANGELES, CA (Catholic Online) - <a href=http://www.jesusfilm.org/>The JESUS Film ... continue reading
---
By Kenya Sinclair (CALIFORNIA NETWORK)
According to actor Matthew McConaughey, his latest film "Free State of Jonas" is not just a historical film - it is also a Biblical one. LOS ANGELES, CA (Catholic Online) - "Free State of Jonas" centers around Newton Knight, who brings together a small band of farmers ... continue reading
---

By Kenya Sinclair (CALIFORNIA NETWORK)
Steven Spielberg's latest film, "The Kidnapping of Edgardo Mortara," will tell the true story of how a six-year-old's kidnapping relates to Pope Pius IX, the crumbling of the then Papacy and how Italy was unified through the culmination of events. LOS ANGELES, CA ... continue reading
---

By Monique Crawford (CALIFORNIA NETWORK)
Annabel Beam was only 9-years-old when she fell down a hollowed-out tree and landed on her skull. Despite other horror stories in which spines were snapped and skulls were broken, Annabel emerged with a few scratches and a miracle: She was cured of a lifelong illness. ... continue reading
---
All Movies News