The Easter Triduum: A Journey into The Paschal Mystery of Christ
---
'Let us journey along in and through the Paschal Mystery of Christ, and enter into the joy of Easter'
'Let us journey along in and through the Paschal Mystery of Christ, and enter into the joy of Easter'
Pope Benedict calls Christians, as we relive the Holy Triduum, to "make ourselves available to welcome God's will into our lives, aware that our true good, the path of our lives, is found in His will."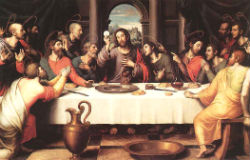 The Institution of the Eucharist
VATICAN CITY (Catholic Online) -- During his general audience in St. Peter's Square, Pope Benedict XVI spoke briefly on the Easter Triduum, "the three holy days in which the Church commemorates the mystery of Jesus' passion, death and resurrection."
Our Holy Father observed that "Holy Thursday is the day that commemorates the institution of the Eucharist and ministerial priesthood." On the afternoon of this sacred day, "the Easter Triduum truly begins," explained the Pope, "with the remembrance of the Last Supper at which Jesus instituted the commemoration of his Passion, fulfilling the Jewish paschal ritual."
More than ten years ago, then Cardinal Ratzinger wrote in his book God Is Near Us that Christ's words of Eucharistic institution at the Last Supper were an anticipation of his death, and the transformation of that death into an event of love. Yet this is so "only in that they did not remain mere words but were given content by his actual death," a death that would be empty of meaning if it were not for the Resurrection, in which it "is made clear that [Christ's] words were spoken with divine authority, that his love is indeed strong enough to reach out beyond death" (43). Thus Christ's word, death, and resurrection make up a whole, and "constitute a veritable reality." This, Cardinal Ratzinger explains, is the "single mystery of Easter" and "the source and origin of the Eucharist" (44).
If we reflect on the meaning of the "veritable reality" constituted by the Paschal Mystery of Christ, we begin to grasp something of the incomparable gift of Holy Thursday: an eve on which our Lord Jesus Christ transcended the boundaries of time and space, making his most precious sacrifice of his body and blood a reality in the present. With the words, "Do this in memory of Me" (Lk 22:19), True God and True Man commands that the Eucharist be perpetuated throughout all time, granting to humankind the ability to receive the life-giving sustenance of his body, blood, soul and divinity in this wondrous sacrament of sacraments.
Blessed John Paul II explained: "The Church has received the Eucharist from Christ her Lord not as one gift -- however precious -- among so many others, but as the gift par excellence, for it is the gift of himself, of his person in his sacred humanity, as well as the gift of his saving work" (Ecclesia De Eucharistia, 11).
This Holy Thursday let us meditate deeply on the incomparable gift of Eucharist, the life-blood dynamic of Christians; let us gaze into the "veritable reality" which is the mystery of Christ's life and unveil our hearts to the sacrifice our Savior underwent in order to give the gift of his own precious blood. For, as Cardinal Ratzinger observed, "the Eucharist is far more than just a meal; it has cost a death to provide it, and the majesty of death is present in it. Whenever we hold it, we should be filled with reverence in the face of this mystery, with awe in the face of this mysterious death that becomes a present reality in our midst. Certainly, the overcoming of this death in the Resurrection is present at the same time, and we can therefore celebrate this death as the feast of life, as the transformation of the world" (God Is Near Us, 44).
The Holy Triduum: Renewed Submission and Abandonment to Love
Pope Benedict also reminded the faithful of the meaning of our Savior's action of washing the apostles' feet: "Jesus washes the feet of his apostles, inviting them to love one another as he loved them, giving his life for them. Repeating this gesture in the liturgy, we are also called to actively bear witness to our Redeemer's love."
The primary way in which we bear witness to our Redeemer's love is by saying "yes" to God's will. Pope Benedict explained that our Savior subordinated his will "to the will of the Father, his natural will transformed into a 'yes' to God's will."
In this subordination of his human will to the Father's, our Savior reveals to the entire human race the meaning of what it is to be truly human, created in God's image and likeness. Nevertheless, some view the Christian act of submission and abandonment to God's will as akin to slavery. How is it, some ask, that a person can be truly free if they live constantly under the "repressive force of a God who demands constant servitude?"
Fr. Rosh A. Kereszty wrote that serving God, the "true Absolute, results in growing harmony and freedom." However, if we set ourselves up "as an 'absolute' by choosing limited goods like pleasure, wealth, glory, or power as ultimate values,  [we] end up in slavery and must endure the disintegration of [our] freedom." We become "addicted" to our own "idols," and these idols begin to "exert more and more power over [us]" (Jesus Christ: Fundamentals of Christology, 337).
Pope Benedict explained that uniting ourselves with docile love to the will of God "is not slavery but an entering into truth, love, and the good. It is directing our will toward God."
Speaking of the agony Jesus suffered at Gethsemane, the Pope noted that "Jesus, with his anguish, charged with the drama of humanity, with our suffering and our poverty, transforms it into the will of God and thus opens the gate of heaven."
It is through the uniting of our wills to God's that the gate of heaven is opened within ourselves. By responding with love to God's grace, we are truly set free, re-created anew, and enabled to share in the divine life of God through our baptism into Christ -- right here and now, in each moment of our daily lives, we are graced with a sublime taste of heaven. What before had ruled us by sin, such as those deceptive and unsatisfying idols which we had chosen for ourselves, is now loosed from us: we are set free from the constraints of an empty world and given a burning encounter with unending and sustaining Love. We have a new life in God: not as slaves, but as his free children whom he loved so dearly as to suffer death on a Roman cross.
Our Holy Father explained that "the standard that guided each of Jesus' decisions during his entire life was his firm desire to love the Father and be faithful to him." As we relive the Holy Triduum, continued the Pope, "we make ourselves available to welcome God's will into our lives, aware that our true good, the path of our lives, is found in his will.
"May the Virgin Mother guide us," concluded the Pope, "along this path and grant us her divine Son's grace to be able to dedicate our lives, in the love of Jesus, to the service of others."
-----
F. K. Bartels is a Catholic writer who knows his Catholic Faith is one of the greatest gifts a man could ever have. He is a contributing writer for Catholic Online. Visit him also at catholicpathways.com
---
Copyright 2018 - Distributed by THE CALIFORNIA NETWORK
Pope Francis Prayer Intentions for JANUARY 2018
Religious Minorities in Asia.
That Christians, and other religious minorities in Asian countries, may be able to practise their faith in full freedom.
---
---
---
More Lent & Easter
---
'So it is written that the Christ would suffer and on the third day rise from the dead'
Easter / Lent News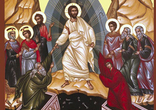 While Easter is a Solemnity and an octave feast, it is also a 50 day season until Pentecost.The Season of Easter is not just about His ... continue reading
---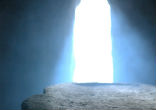 What lesson is the Lord teaching us by keeping his wounds intact? Perhaps we can better answer this question by turning to our own wounds. ... continue reading
---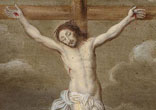 As a teenager I ran into someone who introduced me to the finer points of the occupation. We fell into the tried and proven method of ... continue reading
---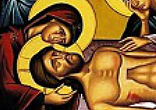 Something strange is happening - there is a great silence on earth today, a great silence and stillness. The whole earth keeps silence ... continue reading
---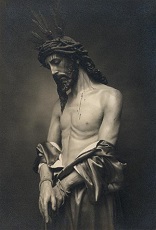 Today as we contemplate the Passion we also plumb the mystery and meaning of the Church. We are members of His Body. She was born ... continue reading
---