In order to break the cycle of poverty, we must first start with the heart. Catholic Online School is something very special, providing FREE Catholic Education to anyone, anywhere. Learn more about the Catholic Online School
Help us create new hope with your donation. This year, please consider making a donation of $5, $20, $50 or whatever you can to support Catholic Online School. Support Catholic Online School
Catholic Online School is something very special, providing FREE Catholic Education to anyone, anywhere. Learn more
This year, please consider giving $5, $20, $50 or whatever you can to Support Catholic Online School
Fr. James Farfaglia: Lent and Our Spiritual Progress
---
A serious Lent is like a spring cleaning in which we cleanse our souls of the clutter that has been accumulating there.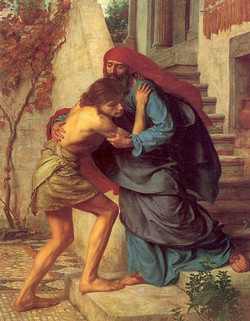 We are all prodigals on our Journey home to the father's house.
CORPUS CHRISTI, TX (Catholic Online) - Without a doubt, Lent is the most demanding time of the year for the true disciple of Christ.  Lent provides us an opportunity not only to intensify our spiritual practices, but this penitential season also gives us a unique opportunity to reflect deeply on the progress of our journey towards eternal life. St. Paul reminds us that our entrance into Heaven is not a guaranteed reality when he writes, "Therefore, whoever thinks he is standing secure should take care not to fall"  (1 Corinthians 10: 12).
Lent is a time for seriously questioning ourselves about our relationship with God.  We might ask whether there are any particular sins or attachments that might prove to be obstacles to our achieving eternal salvation.  A serious Lent is not only like a spring cleaning in which we cleanse our souls of the clutter that has been accumulating there, it is also a time when changes in the way we live our lives may be in order.
This Sunday's Gospel passage underscores this theme as Jesus makes it very clear that our decisions and actions do have consequences.  Our God is a God of mercy, and he forgives any repentant sinner; however, this forgiveness does not take away from the fact that deliberate rejection of the truth does have a personal cost.
 
Many people in our present day have experienced profound conversions. The personal testimonies of life changing experiences bear continual witness to the ever-present action of the Holy Spirit in the lives of all those who are searching for happiness and peace.
 
However, conversion is a daily enterprise.  Every day we are faced with choices and challenges that affect our relationship with the Lord.  It is not easy to be faithful. But God's grace makes discipleship not only possible, it also makes it an amazing adventure.
We must not be surprised that Christianity essentially implies a daily, personal struggle.  Commitment and battle go hand in hand.  We have to take very seriously the fact that our human nature is wounded by original sin.  Discouragement is never an option for true disciples of Christ.  Every day presents a new opportunity to begin again.  God's loving mercy is always available to us through the sacrament of Confession.  It is precisely God's loving willingness to forgive our sins that fills us with the hope of eternal life.
Constancy in the spiritual life, especially under difficult circumstances such as sickness or persecution, characterizes the existence of the true disciple of Christ.
 
In order to help us persevere in our friendship with the Lord, there are some very practical steps that we need to incorporate into our daily lives.
 
First of all, achieving personal order is essential.  Serene and intimate moments of daily prayer will only be made possible by exercising personal discipline.  Getting to bed early, following a schedule, eating dinner as a family, exercising regularly, and maintaining discipline in dress and personal hygiene are all important aspects of order.  
 
Secondly, establishing a regular routine in our spiritual life is very important.  Depending upon the circumstances of daily life, we can all strive to live out routines of a spiritual life.  Praying the Liturgy of the Hours, assisting at daily Mass, reciting the Rosary, contemplative prayer and reading the Bible can be woven into the pattern of our daily existence.  Weekly adoration and the frequent reception of the sacrament of Confession should be made an important part of our spiritual routine as well.
 
Thirdly, developing a sense of community is extremely important. Ideally the parish provides the most fundamental means by which we may experience a spiritual community of mutual support and encouragement.  In places where this support does not exist, new lay associations afford a dynamic means of fellowship.
 
When all three are made to come together in the lives of Catholics, we see vibrant joy and enthusiastic apostolic outreach.  This is happening in communities all over the country where people, especially young people, have discovered Jesus as the Way, the Truth and the Life.
Lent is a very important time for our spiritual lives.  Our Lenten journey should be difficult.  The Lord will always give us the strength that we need to persevere and come closer to him.
-----
 
Father James Farfaglia is the pastor of Saint Helena of the True Cross of Jesus Catholic Church in Corpus Christi, Texas.  Father has a hard-hitting blog called Illegitimi non carborundum.  He has also published a book called Man to Man: a real priest speaks to real men about marriage, sexuality and family life.
---
Copyright 2018 - Distributed by THE CALIFORNIA NETWORK
Pope Francis Prayer Intentions for JANUARY 2018
Religious Minorities in Asia.
That Christians, and other religious minorities in Asian countries, may be able to practise their faith in full freedom.
---
---
---
More Lent & Easter
---
'So it is written that the Christ would suffer and on the third day rise from the dead'
Easter / Lent News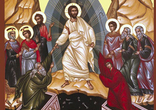 While Easter is a Solemnity and an octave feast, it is also a 50 day season until Pentecost.The Season of Easter is not just about His ... continue reading
---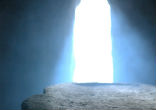 What lesson is the Lord teaching us by keeping his wounds intact? Perhaps we can better answer this question by turning to our own wounds. ... continue reading
---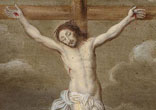 As a teenager I ran into someone who introduced me to the finer points of the occupation. We fell into the tried and proven method of ... continue reading
---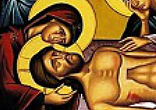 Something strange is happening - there is a great silence on earth today, a great silence and stillness. The whole earth keeps silence ... continue reading
---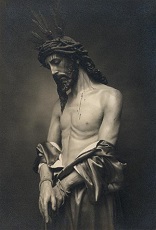 Today as we contemplate the Passion we also plumb the mystery and meaning of the Church. We are members of His Body. She was born ... continue reading
---