Let us learn to walk the way of way of downward mobility and pick up the Cross of the compassionate life.
The Gospel (Matt. 16:24-28) speaks to us of denying ourselves. Part of what that means is simply refusing to be the center of our own lives anymore. We are invited by the Lord to empty ourselves of ourselves - in order to be make room for Him to live His Life within us and through us.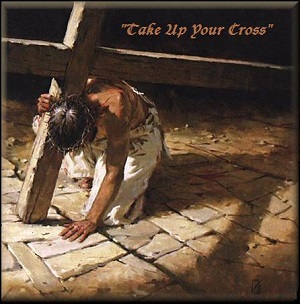 DENVER, CO (Catholic Online) - The Gospel (Matt. 16:24-28) speaks to us of denying ourselves. Part of what that means is simply refusing to be the center of our own lives anymore. We are invited by the Lord to empty ourselves of ourselves - in order to be make room for Him to live His Life within us and through us.  
Jesus said to his disciples, "Whoever wishes to come after me must deny himself, take up his cross, and follow me. For whoever wishes to save his life will lose it, but whoever loses his life for my sake will find it. What profit would there be for one to gain the whole world and forfeit his life? Or what can one give in exchange for his life?'
I have had a difficult year. I lost my beloved mother and have faced situations which have caused much pain. It seems that the struggles are not easing up. In fact, most of the people whom I care about are walking the same road.  Yet, the older I get, the more I find that it is on this road we encounter the Lord, carrying His cross. He invites us to join Him and, when we do, we find that His burden is light. He teaches us the liberating way of downward mobility.
The phrase is not my own. It was used by one of the great spiritual writers of our age, Fr. Henri Nouwen, in a book which I highly recommend called Here and Now writes of the compassionate life. To understand the phrase it helps to remember the etymology of the word. At its root it means to suffer with; to enter into the suffering of another out of love.

Clearly, this is the Way of Jesus Christ, the Way of the Cross, the Way of Compassion.
Pope St Leo wote of Jesus: "He took the nature of a servant without stain of sin, enlarging our humanity without diminishing his divinity. He emptied himself; though invisible he made himself visible, though Creator and Lord of all things he chose to be one of us mortal men. Yet this was the condescension of compassion, not the loss of omnipotence. So he, who in the nature of God had created man, became in the nature of a servant, man himself."
Fr. Nouwen wrote, "The compassionate life is the life of downward mobility! In a society in which upward mobility is the norm, downward mobility is not only discouraged but even considered unwise, unhealthy, or downright stupid."
He was correct. Yet, it is hard to hold onto this insight, and even harder to live it. There is nothing new about this difficulty. We see Jesus, who is the incarnate example of this kind of downward mobility, instructing His disciples in this way repeatedly. Apparently they had the same difficulty we do. For example:
"An argument arose among the disciples, about which of them was the greatest. Jesus realized the intention of their hearts and took a child and placed it by his side and said to them, "Whoever receives this child in my name receives me, and whoever receives me receives the one who sent me. For the one who is least among all of you is the one who is the greatest." (Luke 9:46-50)
The older I get the more aware I am of my failures in compassion - and my lack of love. That is why I am regularly drawn to make an examination of conscience by reflecting on the profound words of Jesus recorded in the 25th chapter of St. Matthews Gospel. When all is said and done, we will be judged on whether we loved Him as He is revealed in those whom He loves.
"I was hungry, and you gave me food; I was thirsty, and you gave me something to drink; I was a stranger and you welcomed me; I was naked and you gave me clothing; I was sick and you took care of me; I was in prison, and you visited me." (Matthew 25.35-36)
It was said of the early disciples that they "turned the world upside down" with their preaching (Acts 17). Well, we still can - in our own day. After all, we are His disciples in this millennium. They offered more than words, they offered lives of self emptied love, of downward mobility. Will we choose to do the same?
Like the Master whom we follow, we are called to become the least of these. That was what Fr. Henri Nouwen meant when he warned of the "lure of upward mobility". He called it the greatest sin of the age. He spoke of God's extraordinary love, revealed in the Incarnation of Jesus Christ, as an alternative way, a way of downward mobility. 
How extraordinary is this wonderful love of God, revealed in Jesus. How hard it is to comprehend its invitation. The God of the entire universe came among us as a man. He emptied Himself. In His sacred humanity he lived a full and complete human life, walking in intimate communion with His Father. He now makes it possible for us to do the same.
Because He was fully God, Jesus accomplished for us what we could never have accomplished for ourselves, he redeemed us, set us free from the punishment merited by our sin, healed the divisions caused by sin - and capacitated us to live our lives differently by cooperating with grace. He saved us from and saved us for. He defeated the last enemy, death and overcame the evil one. He did all of this because He is love Incarnate. 
He invites each of us to now walk in His way. St Paul writes of Jesus "Though He was in the form of God, He did not count equality with God something to be grasped. Rather, He emptied Himself" (Philippians 2) The Greek word is kenosis, which means self-emptying love.

God became the least of these in the Incarnation of His Son. Will we be emptied of ourselves, in order to become men and women for others, conformed to the One who emptied Himself for us? When we do learn to empty ourselves, He comes and takes up His residence within us.
Then, we become His arms, embracing the world; His legs, still walking its dusty streets; and His Heart, still beating with the Divine Compassion. We become like Jesus Christ, the One who became the least of these in order to bring us all into the full communion of love.
I end with some more words from Fr. Nouwen, "This is the way of downward mobility, the descending way of Jesus. It is the way toward the poor, the suffering, the marginal, the prisoners, the refugees, the lonely, the hungry, the dying, the tortured, the homeless--toward all who ask for compassion. What do they have to offer ? Not success, popularity, or power, but the joy and peace of the children of God."
Let us learn to walk the way of way of downward mobility and pick up the Cross of the compassionate life.
---
Copyright 2016 - Distributed by THE CALIFORNIA NETWORK
Pope Francis Prayer Intentions for NOVEMBER 2016
Universal:
Countries Receiving Refugees: That the countries which take in a great number of displaced persons and refugees may find support for their efforts which show solidarity.
Evangelization:
Collaboration of Priests and Laity: That within parishes, priests and lay people may collaborate in service to the community without giving in to the temptation of discouragement.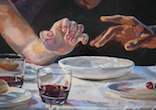 By Fr Samuel Medley, SOLT
I gave my back to those who beat me, my cheeks to those who plucked my beard; My face I did not shield from buffets and spitting. HYTHE, KENT, UK (Catholic Online) - I didn't steal any cookies mommy! says a little boy whose mother asked him if he was hungry, wiping the ... continue reading
---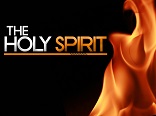 By Catholic Online
The Spirit makes one man a teacher of divine truth, inspires another to prophesy, gives another the power of casting out devils, enables another to interpret holy Scripture. The Spirit strengthens one man's self-control, shows another how to help the poor, teaches ... continue reading
---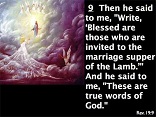 By Deacon Keith Fournier
It is not accidental that the Bible, from beginning to the end, uses marriage as a metaphor and a symbol to reveal the plan of God for the whole human race. Marriage was God's plan from the beginning as we see in the first book of Genesis. Throughout the Old ... continue reading
---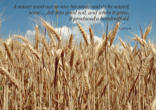 By Deacon Keith Fournier
"A sower went out to sow. And, as he sowed, some seed fell on the path, and birds came and ate it up. Some fell on rocky ground, where it had little soil. It sprang up at once because the soil was not deep, and when the sun rose it was scorched, and it withered for ... continue reading
---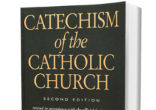 By Michael Terheyden
How we interpret the Bible is of immense importance! It directly affects what we believe about Christ, the Church, and our faith, but it is also related to many of the grave problems in our society and the world. Yet, despite the gravity of this situation, we have good ... continue reading
---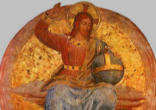 By Deacon Keith Fournier
We celebrate the Feast of Christ the King. It is one of many opportunities the Catholic Church year offers to each one of us to consider the creature called time, receive it as a gift, and begin to really live our lives differently. This is one of ... continue reading
---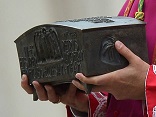 By Deacon Keith Fournier
On the Solemnity of the Feast of Christ the King, the Sunday which marks both the end of the Church Year and the end of the Year of Faith, inaugurated by Pope Emeritus Benedict XVI, Pope Francis greeted thousands of the faithful and presided over Holy Mass and the ... continue reading
---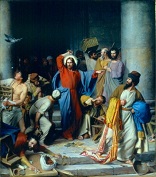 By Father Randy Sly
Becoming a House of Prayer is the best discipline we can take on. St. Ephraem of Syria states that Virtues are formed by prayer. Prayer preserves temperance. Prayer suppresses anger. Prayer prevents emotions of pride and envy. Prayer draws into the soul the Holy ... continue reading
---
By Deacon Keith Fournier
If this day you only knew what makes for peace- but now it is hidden from your eyes. For the days are coming upon you when your enemies will raise a palisade against you; they will encircle you and hem you in on all sides. They will smash you to the ground and your ... continue reading
---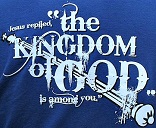 By Deacon Keith Fournier
In Jesus Christ, the Kingdom has been inaugurated. Upon his return it will be made complete and fully manifested in a new heaven and a new earth. We are members of the Body of Christ which makes it present here and now - as seed and sign for a world which is in labor. ... continue reading
---
All Year of Faith News