Actions speak louder than words; let your words teach and your actions speak
The Saints we honor as Catholic Christians are given to us as examples to emulate as well as intercessors to assist us in responding to our vocation. They are companions on the journey; men and women like us who responded to God's invitation to become like Jesus. They pray for us because we are joined with them in the eternal communion of love. They put legs on the Gospel, showing us what holiness looks like. However, if we stop there, we miss the mark. Missing the mark is the translation of the Hebrew word often translated "sin" in the Old Testament. We are called to become saints.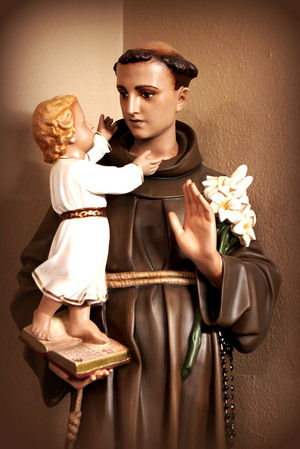 St Anthony of Padua
CHESAPEAKE, VA (Catholic Online) - Today we commemorate the memorial of Anthony of Padua, Priest and Doctor, in the Roman Liturgical Calendar. In our Gospel (Mt. 5:20-26) we hear Jesus speak with great bluntness and power, "I tell you, unless your righteousness surpasses that of the scribes and Pharisees, you will not enter into the Kingdom of heaven."
The passage immediately follows Matthews's account of the beatitudes (Mt. 5:1-19). The verses before our Gospel text contain these words of the Lord, "You are the salt of the earth; but if salt has lost its taste, how can its saltiness be restored? It is no longer good for anything, but is thrown out and trampled underfoot.  You are the light of the world. A city built on a hill cannot be hidden. No one after lighting a lamp puts it under the bushel basket, but on the lampstand, and it gives light to all in the house. In the same way, let your light shine before others, so that they may see your good works and give glory to your Father in heaven. Do not think that I have come to abolish the law or the prophets; I have come not to abolish but to fulfil."
The gospel message is not so much about the shortcomings of the particular scribes and Pharisees, but an invitation to consider our own response to call of the Lord. How are we doing? Are we living what we profess? In its dogmatic constitution on the Church, Lumen Gentium, the Second Vatican Council affirmed the teaching of Jesus Christ, the witness of the saints, and the consistent teaching of Church Councils throughout the ages - holiness of life is the vocation of every member of the Church. We are all called to Christian perfection, "all the faithful, whatever their condition or state, are called by the Lord, each in his own way, to that perfect holiness whereby the Father Himself is perfect" (Lumen Gentium, Light to the Nations, 11).
The Catechism of the Catholic Church reminds us "All Christians in any state or walk of life are called to the fullness of Christian life and to the perfection of charity. All are called to holiness: "Be perfect, as your heavenly Father is perfect." (CCC #2013) Christians are saved from sin, death and separation from God, through Jesus Christ.  But we are saved for a new way of living. We are called to holiness and righteousness. We live differently because we live our lives Jesus Christ. We love differently, because we are capacitated by grace to love with His Love. And all of this is made possible as we cooperate with His grace. The character of Christ is formed in us as we cooperate with His grace. The chapter of Matthews Gospel ends with this admonition of Jesus, "So be perfect, just as your heavenly Father is perfect." ( Matthew 5: 48)
This admonition from Jesus is repeated in other Gospel accounts and developed in the New Testament Epistles. Our question should not be "is it possible?" Rather, it should be "HOW is it possible?"  How do we respond? Perhaps our problem with responding is that we confuse the meaning of the word, "perfect". Filtering this word through our linguistic limitations, we may come up with a false translation and, as a result, not even attempt to respond to the admonition.   However, Jesus has saved us from sin and death - and saved us for a new way of living. We can tend to focus on what we are saved from and forget what we are saved for. We do not yet comprehend who we are to become in Him.
In Greek, the word often translated perfect is telios. It refers to something being completed, brought to its full purpose, potential and intended end and vocation. For example, in the world of objects, a hammer is telios or perfect when it is hammering a nail. In our Western minds, we can limit this word "perfect" and thereby fail to grasp its promise and potential. We think of it mathematically rather than relationally. We fail to understand it is a work in process. The God who is Love fashioned us in His Image. We are made to love as He loves. In Jesus Christ, we are now being capacitated - to use a term frequently used by the early father and Bishop Ireneaus of Lyons - meaning made capable - by the grace of Christ's Redemption - of loving with God's love. "God is love, and he who abides in love abides in God, and God abides in him" (1 Jn 4:16). Notice that the concept of being "perfected' is also applied to Jesus by the author of the New Testament Letter to the Hebrews in chapter 5 verses 8-9:
"Although he was a Son, he learned obedience through what he suffered; and being made perfect he became the source of eternal salvation to all who obey him." Jesus was made perfect through what He suffered? Yet, Jesus was without sin. How then was He perfected? He came into the world to redeem it, to transform us by a life, and a death, and a Resurrection of perfect love. He fulfilled His purpose when He presided over the new creation from the Altar of that Cross and robbed death of its victory by bursting forth from a tomb which could not contain Love.
We live in Him as we live our lives in the heart of the Church for the sake of the world. The Church is not so much a Some-Thing as a Some-One. We are being made perfect, holy, righteous as we cooperate with His continual invitations to conversion by living our lives in the Communion of His Body on earth. We are capacitated to love as He loved as we receive His grace through prayer, in His Word and through the Sacraments. When we follow Jesus a dynamic process happens within us, an ever deepening conversion and transformation, a process which is called perfection.
We "participate in the Divine Nature" as the Apostle Peter tells us. (2 Peter 1:4). We are perfected in charity, by grace and through faith. Every Christian, no matter what our state in life or particular vocation, is called to this holiness. God's Divine Life, and its dynamic work within us, is meant change us into the new men and women that Jesus Christ has capacitated us to become. We walk this way of holiness by living in His Body, the Church, of which we are members.
The Church is the seed of the kingdom, making the kingdom present in a world waiting to be born. Only when the King returns will the Kingdom be fully established. Then, the entire creation be reconstituted by love, made perfect, and handed back to the Father as a gift of love. However, the Church is a sign, a sacrament of that Kingdom. We are seeds of that kingdom, scattered into the world as into a furrow. We are called to become saints, refashioned through cooperation with grace.

The Saints we honor as Catholic Christians are given to us as examples to emulate as well as intercessors to assist us in responding to our vocation. They are companions on the journey; men and women like us who responded to God's invitation to become like Jesus. They pray for us because we are joined with them in the eternal communion of love. They put legs on the Gospel, showing us what holiness looks like. However, if we stop there, we miss the mark. Missing the mark is the translation of the Hebrew word often translated "sin" in the Old Testament. Called to become Saints right where we are, in our own state in life. 
St Anthony of Padua was born in Portugal at the end of the twelfth century. Through a somewhat circuitous route he eventually responded to the voice of the Lord and became a Franciscan friar and a fabulous preacher. He lived only to the age of thirty six but changed history. In fact, his witness continues in our midst and his writings point the way to the source of his own holiness, a living, vibrant relationship with Jesus Christ, lived in the heart of the Church for the sake of the world. The office of Readings today gives us an excerpt from one of his powerful sermons entitled Actions speak louder than words:
*****
A sermon by St Anthony of Padua
The man who is filled with the Holy Spirit speaks in different languages. These different languages are different ways of witnessing to Christ, such as humility, poverty, patience and obedience; we speak in those languages when we reveal in ourselves these virtues to others. Actions speak louder than words; let your words teach and your actions speak. We are full of words but empty of actions, and therefore are cursed by the Lord, since he himself cursed the fig tree when he found no fruit but only leaves. Gregory says: "A law is laid upon the preacher to practice what he preaches." It is useless for a man to flaunt his knowledge of the law if he undermines its teaching by his actions.
But the apostles spoke as the Spirit gave them the gift of speech. Happy the man whose words issue from the Holy Spirit and not from himself! For some men speak as their own character dictates, but steal the words of others and present them as their own and claim the credit for them. The Lord refers to such men and others like them in Jeremiah: So, then, I have a quarrel with the prophets that steal my words from each other. I have a quarrel with the prophets, says the Lord, who have only to move their tongues to utter oracles. I have a quarrel with the prophets who make prophecies out of lying dreams, who recount them and lead my people astray with their lies and their pretensions. I certainly never sent them or commissioned them, and they serve no good purpose for this people, says the Lord.
We should speak, then, as the Holy Spirit gives us the gift of speech. Our humble and sincere request to the Spirit for ourselves should be that we may bring the day of Pentecost to fulfilment, insofar as he infuses us with his grace, by using our bodily senses in a perfect manner and by keeping the commandments. Likewise we shall request that we may be filled with a keen sense of sorrow and with fiery tongues for confessing the faith, so that our deserved reward may be to stand in the blazing splendor of the saints and to look upon the triune God. 
---
Copyright 2017 - Distributed by THE CALIFORNIA NETWORK
Pope Francis Prayer Intentions for DECEMBER 2016
Universal:
End to Child-Soldiers: That the scandal of child-soldiers may be eliminated the world over.
Evangelization:
Europe: That the peoples of Europe may rediscover the beauty, goodness, and truth of the Gospel which gives joy and hope to life.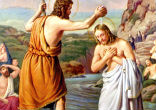 By Fr. James Farfaglia
The consideration of Jesus' baptism, gives us an opportunity to remember our own baptism. If you do not know the date of your own baptism, it is a good idea to go through your personal files and find out when it occurred. CORPUS CHRISTI, TX (Catholic ... continue reading
---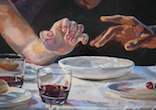 By Fr Samuel Medley, SOLT
I gave my back to those who beat me, my cheeks to those who plucked my beard; My face I did not shield from buffets and spitting. HYTHE, KENT, UK (Catholic Online) - I didn't steal any cookies mommy! says a little boy whose mother asked him if he was hungry, wiping the ... continue reading
---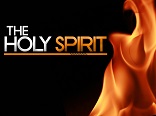 By Catholic Online
The Spirit makes one man a teacher of divine truth, inspires another to prophesy, gives another the power of casting out devils, enables another to interpret holy Scripture. The Spirit strengthens one man's self-control, shows another how to help the poor, teaches ... continue reading
---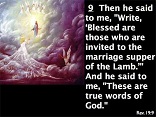 By Deacon Keith Fournier
It is not accidental that the Bible, from beginning to the end, uses marriage as a metaphor and a symbol to reveal the plan of God for the whole human race. Marriage was God's plan from the beginning as we see in the first book of Genesis. Throughout the Old ... continue reading
---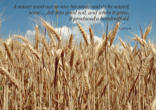 By Deacon Keith Fournier
"A sower went out to sow. And, as he sowed, some seed fell on the path, and birds came and ate it up. Some fell on rocky ground, where it had little soil. It sprang up at once because the soil was not deep, and when the sun rose it was scorched, and it withered for ... continue reading
---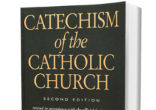 By Michael Terheyden
How we interpret the Bible is of immense importance! It directly affects what we believe about Christ, the Church, and our faith, but it is also related to many of the grave problems in our society and the world. Yet, despite the gravity of this situation, we have good ... continue reading
---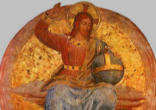 By Deacon Keith Fournier
We celebrate the Feast of Christ the King. It is one of many opportunities the Catholic Church year offers to each one of us to consider the creature called time, receive it as a gift, and begin to really live our lives differently. This is one of ... continue reading
---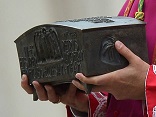 By Deacon Keith Fournier
On the Solemnity of the Feast of Christ the King, the Sunday which marks both the end of the Church Year and the end of the Year of Faith, inaugurated by Pope Emeritus Benedict XVI, Pope Francis greeted thousands of the faithful and presided over Holy Mass and the ... continue reading
---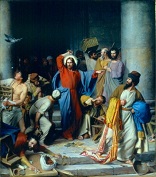 By Father Randy Sly
Becoming a House of Prayer is the best discipline we can take on. St. Ephraem of Syria states that Virtues are formed by prayer. Prayer preserves temperance. Prayer suppresses anger. Prayer prevents emotions of pride and envy. Prayer draws into the soul the Holy ... continue reading
---
By Deacon Keith Fournier
If this day you only knew what makes for peace- but now it is hidden from your eyes. For the days are coming upon you when your enemies will raise a palisade against you; they will encircle you and hem you in on all sides. They will smash you to the ground and your ... continue reading
---
All Year of Faith News