SATURDAY HOMILY: The antidote to hatred is love
---
In recent decades there has been a growing animus toward the Church here in America and abroad. This development has followed upon an ever increasing secularization of society. "God is love," proclaims St. John (1 John 4:8). As people make less and less room for God who is love, the world becomes a less loving and a less lovely place.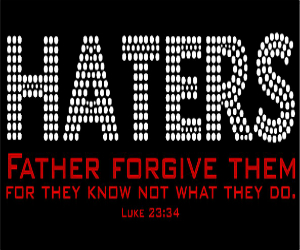 LONG BEACH, CA (Catholic Online) From the beginning, the Church has been the object of hatred. Jesus forewarned us, "Everyone will hate you because of me" (Mark 13:13). He tells us in today's Gospel: "If the world hates you, realize that it hated me first," In other words, don't be surprised when it happens. "If they persecuted me, they will also persecute you."
It is no exaggeration to say that in fact every age is "the age of martyrs," although the intensity of the persecution varies according to time and place. At any moment of any day there are Christians somewhere on this planet who are suffering mistreatment of one form or another because they refuse to hide their faith or water it down in the face of hostility to the Gospel. Christians living in such environments who refuse to capitulate no matter what the consequences and remain faithful to Christ and His Church are truly martyrs in the most basic biblical sense of word. The Greek word for martyr literally means witness.
In recent decades there has been a growing animus toward the Church here in America and abroad. This development has followed upon an ever increasing secularization of society. "God is love," proclaims St. John (1 John 4:8). As people make less and less room for God who is love, the world becomes a less loving and a less lovely place.
Pope Emeritus Benedict XVI addressed this problem in what was to be his final Christmas Eve homily (Homily, Christmas Eve 2012). On that occasion he said: "We are so "full" of ourselves that there is no room left for God. And that means there is no room for others either, for children, for the poor, for the stranger." When God is relegated to the margins of society, the end result is a world bereft of love and goodness and a heightened malevolence against God and godly people.
How else does one explain the vile attack on the Belgian archbishop, André-Joseph Léonard, which took place recently? The archbishop was participating in a public debate at a university when four radical feminists belonging to the militant homosexual group FEMEN mounted the stage, removed their clothes and then proceeded to douse the archbishop with water from plastic bottles molded in the image of the Blessed Virgin Mary.
While the attackers carried out their sacrilegious deed, Archbishop Léonard simply closed his eyes and bowed his head in prayer. He did not show any anger or contempt for the women nor did he engage them in any way. Rather, in a very Christ-like manner, he accepted the ill-treatment without ever uttering a word of complaint or self pity. His greatest concerned seemed to be the offense made against Our Lady; he was later seen reverently kissing one of the plastic bottles used in the attack.
The behavior of the attacking women offers a stark contrast with that of the archbishop. With  faces contorted with hatred, the four young women appeared almost demon-like as they swirled around the archbishop shouting profanities and displaying course slogans that had been painted on their unclothed bodies.
According to FEMEN, their "action had been directed against the homophobia (sic) of Archbishop Leonard," and that they were calling for his removal for "spreading hatred and intolerance." Really? Any fair-minded person can see that if anyone is guilty of hate and intolerance in this scenario it most definitely is not Archbishop Léonard. The archbishop's "crime," so to speak, is that he is a faithful Catholic and a loving shepherd who preaches the truth with love.
The final words of today's Gospel can help to shed some light on this painful scene: Jesus says: "They will do all these things to you on account of my name, because they do not know the one who sent me." These words of Jesus spoken to his apostles on the night before he died are completely consistent with the words he spoke from the Cross when he cried out, "Father, forgive them for they know not what they do."
Bishop Fulton J. Sheen once famously said: "There are not more than 100 people in the world who truly hate the Catholic Church, but there are millions who hate what they perceive to be the Catholic Church." One should not make excuses for the four women who committed this repulsive act against a good man. At the same time, only God knows what is going on inside their tortured souls and in their confused minds. Jesus said, " Love your enemies: do good to them that hate you: and pray for them that persecute and calumniate you" (Matthew 5:44). This is what Archbishop Léonard did in this instance and this is what we must do when we become objects of hate because of our faith.
Jesus teaches us by his sacred passion and death that the antidote to hatred is Love.
St. Josemaria gave this advice to his spiritual children: "The Master has said it already: if only we children of the light were to put at least as much effort and obstinacy into doing good as the children of darkness put into their activities!
-Don't complain. Work, instead, to drown evil in an abundance of good!"
In the last book of the Bible Jesus himself is called the faithful witness (Revelation 1:5). He is indeed the King of Martyrs, the witness par excellence to the truth of God's love for sinful humanity. Jesus is the perfect model of what it means to persevere in faithfulness to the Father's will even to the point of shedding one's blood.
"I have trodden before you this path of hatred, and made it smooth for you, so that ye, following Me, may walk joyfully in the same way. For I give Myself to you not only as your companion in persecutions, but your standard-bearer, your leader and your guide" (Commentary on the Gospel of St. John, Cornelius a Lapide).
May Holy Mary, Queen of Martyrs, help us to always love even in the face of hatred and misunderstanding.
Fr. G. Peter Irving III is a priest of the Archdiocese of Los Angeles and Pastor of Holy Innocents Church, Long Beach, California.
---
Copyright 2017 - Distributed by THE CALIFORNIA NETWORK
Pope Francis Prayer Intentions for MAY 2017
Christians in Africa.
That Christians in Africa, in imitation of the Merciful Jesus, may give prophetic witness to reconciliation, justice, and peace.
---
---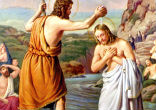 The consideration of Jesus' baptism, gives us an opportunity to remember our own baptism. If you do not know the date of your own ... continue reading
---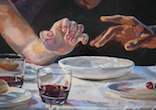 I gave my back to those who beat me, my cheeks to those who plucked my beard; My face I did not shield from buffets and spitting. HYTHE, ... continue reading
---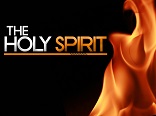 The Spirit makes one man a teacher of divine truth, inspires another to prophesy, gives another the power of casting out devils, enables ... continue reading
---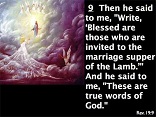 It is not accidental that the Bible, from beginning to the end, uses marriage as a metaphor and a symbol to reveal the plan of God for the ... continue reading
---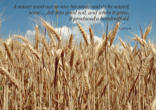 "A sower went out to sow. And, as he sowed, some seed fell on the path, and birds came and ate it up. Some fell on rocky ground, where it ... continue reading
---

Copyright 2017 Catholic Online. All materials contained on this site, whether written, audible or visual are the exclusive property of Catholic Online and are protected under U.S. and International copyright laws, © Copyright 2017 Catholic Online. Any unauthorized use, without prior written consent of Catholic Online is strictly forbidden and prohibited.