In December 1998, octuplets were born to a Nigerian-immigrant couple living in Houston, Texas. The parents, both Christians, gave to their eight  newborns Nigerian tribal names which extoll the attributes of God. The liturgy of today's Mass presents to us the
Magnificat
, that sublime prayer of divine praise which sprang from Mary's most pure heart at the Annunciation. The names of these Nigerian octuplets read like a kind of modern
Magnifica
t in praise of the One, True God.
LONG BEACH, CA (Catholic Online) - In December 1998, octuplets were born to a Nigerian-immigrant couple living in Houston, Texas. The parents, both Christians, gave to their eight  newborns Nigerian tribal names which extoll the attributes of God.

These are the names they gave to their children: Ebuka (a girl) which means God is great; Chidi (a girl) which means God is beautiful; Echerem (a girl) which means God thinks of me; Chima (a girl) which means God knows my way; Odera (a girl) which means God has my life; Gorom (a girl) which means God is merciful; Ikem (a boy) which means God is my strength; and Jioke (a boy) which means God is my leader.

In a few days, the whole world will celebrate the birth of just one child who is the only Son of God and the only Son of Mary. His name is Jesus which means God is my Savior.

The Catechism of the Catholic Church states: "Jesus means in Hebrew: 'God saves.' At the annunciation, the angel Gabriel gave him the name Jesus as his proper name, which expresses both his identity and his mission" (CCC, 420).

The liturgy of today's Mass presents to us the Magnificat, that sublime prayer of divine praise which sprang from Mary's most pure heart at the Annunciation. The names of these Nigerian octuplets read like a kind of modern Magnificat in praise of the One, True God.

Ebuka! God is great! On that first Christmas as Our Lady held the Infant Savior in her arms and contemplated the face she had so ardently longed to see, her Magnificat must have echoed in her heart. "My soul proclaims the greatness of the Lord!" (St. Luke 1:46).

Chidi! God is beautiful! It is not uncommon to hear people remark at the sight of a newborn infant, "What a beautiful baby!" or "Oh, how adorable!" Yes, babies are beautiful and "adorable." But Mary's baby is the most beautiful of them all and is adorable in the most literal of senses because He is God Incarnate.

I once heard a wise grandmother quip that the Blessed Mother did not have to resist the temptation that every other mother must resist, namely, that of adoring her child. Jesus is indeed our beautiful Savior and worthy of all praise because He is "Emmanuel,' which means 'God is with us'" (St. Matthew 1:23).

Cherem! God thinks of me! In her Magnificat, the Blessed Virgin exclaims, "He has looked with favor on His lowly servant" (St. Luke 1:48). "From all eternity," the Catechism tells us, "God chose for the mother of his Son a daughter of Israel, a young Jewish woman of Nazareth in Galilee, "a virgin betrothed to a man whose name was Joseph, of the house of David; and the virgin's name was Mary" (488).

Chima! God knows my way. Contemplate the scene in Bethlehem where the Holy Family huddles together in a cave. There were many such caves in and around Bethlehem and they were often used as stables for animals. The newborn King is laid in a manger which is nothing other than a feeding trough for animals. "Jesus was born in a stable, in an inhospitable-one might even say unworthy-space, which nevertheless provided the necessary privacy for the sacred event" (Jesus of Nazareth: the Infancy Narratives, by Benedict XVI).

What deep faith Our Lady had!  The difficulties of the moment and the obscurity of the future did not cause her faith to falter. It was precisely by faith that she knew that she was walking, step by step, in the way set out for her by God. How well-spoken are the words of her kinswoman Elizabeth who said in praise of the Virgin: "Blessed are you who believed that what was spoken to you by the Lord would be fulfilled" (St. Luke 1:45)! 

Odera! God has my life! Mary's surrender to God was total and unwavering from the first instant of her Immaculate Conception until the day she was assumed into heaven body and soul. "Behold, I am the handmaid of the Lord.  May it be done to me according to your word" (St. Luke 1:38).
 
Gorom! God is merciful!  The dogma of the Immaculate Conception teaches us that Our Lady was herself a recipient of Divine Mercy having been "redeemed, in a more exalted fashion, by reason of the merits of her Son" (CCC, 492). Hence, she could truly say in her Magnificat, "My spirit rejoices in God my savior" (St. Luke 1:47).

The Church also teaches that Mary is not only a recipient of Divine Mercy but is also the Mediatrix of all graces by virtue of her role as the Mother of the Redeemer. This is why she is rightly called "Mother of Mercy." "His mercy is from age to age to those who fear Him" (St. Luke 1:50)

St. Bernardine of Siena summed up this maternal mediation of Mary in one succinct phrase: "Every grace that is communicated to this world has a threefold course. For by excellent order, it is dispensed from God to Christ, from Christ to the Virgin, from the Virgin to us."

The Fathers of Vatican Council II further explained:

"The maternal duty of Mary toward men in no wise obscures or diminishes this unique mediation of Christ, but rather shows His power. For all the salvific influence of the Blessed Virgin on men originates, not from some inner necessity, but from the divine pleasure. It flows forth from the superabundance of the merits of Christ, rests on His mediation, depends entirely on it and draws all its power from it. In no way does it impede, but rather does it foster the immediate union of the faithful with Christ" (Dogmatic Constitution on the Church, 60).

Ikem!  God is my strength!  Stabat Mater. The Mother stood at the foot of the Christ. All of hell's fury could not separate her from her Divine Son. "The Mighty One has done great things for me." (St. Luke 1:49)

Jioke!  God is my leader!  "He will be great and will be called Son of the Most High, and the Lord God will give him the throne of David his father, and he will rule over the house of Jacob forever, and of his kingdom there will be no end."

In his Apostolic Letter, Novo Millennio Ineunte, Blessed John Paul II exhorted all Christians to look upon the Holy Face of Jesus with new eyes!  In the Marian complement to that letter, Rosarium Virginis Mariae, he invited us to "... to contemplate with Mary the face of Christ."

With the Psalmist let us cry out: "Lord, make us turn to you; let us see your face and we shall be saved!" Then with Holy Mary we too will worship our Great God and Beautiful Savior who always thinks of us, who knows our way, who has our Life, who is Mercy itself, and who is our strength and our King!

Postscript:  The Nigerian mother of the octuplets was radiant with joy as she left the hospital on December 30, 1998.  "When I saw them for the first time, I was so amazed at what God blessed me with," she told reporters.  Sadly, the tiniest of the eight infants did not survive.  Coincidentally, that child's name was Odera which means God has my life.  The mother remained steadfast in her faith in God and said simply, "God brought her and he took her."  Doctors had tried to persuade the Nigerian woman to selectively abort some of the fetuses in order to increase the chances of the survival of the others.  "I wasn't even going to give it a second thought," was her response.  Ebuka!  God is great!

Fr. G. Peter Irving III is a priest of the Archdiocese of Los Angeles and is pastor of Holy Innocents Church, Long Beach, California.
 
---
Copyright 2017 - Distributed by THE CALIFORNIA NETWORK
Pope Francis Prayer Intentions for DECEMBER 2016
Universal:
End to Child-Soldiers: That the scandal of child-soldiers may be eliminated the world over.
Evangelization:
Europe: That the peoples of Europe may rediscover the beauty, goodness, and truth of the Gospel which gives joy and hope to life.
---
---
---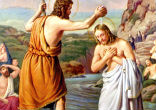 By Fr. James Farfaglia
The consideration of Jesus' baptism, gives us an opportunity to remember our own baptism. If you do not know the date of your own baptism, it is a good idea to go through your personal files and find out when it occurred. CORPUS CHRISTI, TX (Catholic ... continue reading
---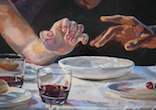 By Fr Samuel Medley, SOLT
I gave my back to those who beat me, my cheeks to those who plucked my beard; My face I did not shield from buffets and spitting. HYTHE, KENT, UK (Catholic Online) - I didn't steal any cookies mommy! says a little boy whose mother asked him if he was hungry, wiping the ... continue reading
---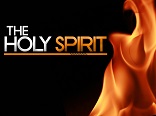 By Catholic Online
The Spirit makes one man a teacher of divine truth, inspires another to prophesy, gives another the power of casting out devils, enables another to interpret holy Scripture. The Spirit strengthens one man's self-control, shows another how to help the poor, teaches ... continue reading
---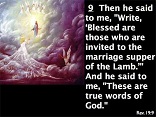 By Deacon Keith Fournier
It is not accidental that the Bible, from beginning to the end, uses marriage as a metaphor and a symbol to reveal the plan of God for the whole human race. Marriage was God's plan from the beginning as we see in the first book of Genesis. Throughout the Old ... continue reading
---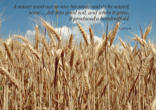 By Deacon Keith Fournier
"A sower went out to sow. And, as he sowed, some seed fell on the path, and birds came and ate it up. Some fell on rocky ground, where it had little soil. It sprang up at once because the soil was not deep, and when the sun rose it was scorched, and it withered for ... continue reading
---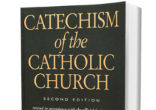 By Michael Terheyden
How we interpret the Bible is of immense importance! It directly affects what we believe about Christ, the Church, and our faith, but it is also related to many of the grave problems in our society and the world. Yet, despite the gravity of this situation, we have good ... continue reading
---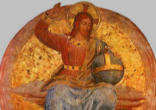 By Deacon Keith Fournier
We celebrate the Feast of Christ the King. It is one of many opportunities the Catholic Church year offers to each one of us to consider the creature called time, receive it as a gift, and begin to really live our lives differently. This is one of ... continue reading
---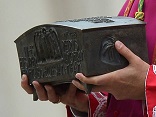 By Deacon Keith Fournier
On the Solemnity of the Feast of Christ the King, the Sunday which marks both the end of the Church Year and the end of the Year of Faith, inaugurated by Pope Emeritus Benedict XVI, Pope Francis greeted thousands of the faithful and presided over Holy Mass and the ... continue reading
---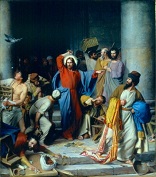 By Father Randy Sly
Becoming a House of Prayer is the best discipline we can take on. St. Ephraem of Syria states that Virtues are formed by prayer. Prayer preserves temperance. Prayer suppresses anger. Prayer prevents emotions of pride and envy. Prayer draws into the soul the Holy ... continue reading
---
By Deacon Keith Fournier
If this day you only knew what makes for peace- but now it is hidden from your eyes. For the days are coming upon you when your enemies will raise a palisade against you; they will encircle you and hem you in on all sides. They will smash you to the ground and your ... continue reading
---
All Year of Faith News