The lighting of the pink candle of the Advent Wreath reminds us that Christmas is almost here.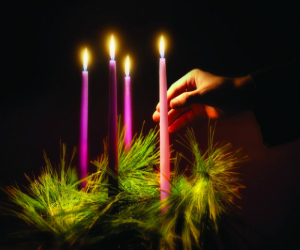 CORPUS CHRISTI, TX (Catholic Online) - A number of years ago, a young college student was working as an intern at his college's Museum of Natural History. One day while working at the cash register in the gift shop, he saw an elderly couple come in with a little girl in a wheelchair.

As he looked closer at this girl, he saw that she was kind of perched on her chair. The student realized that she had no arms or legs, just a head, neck and torso. She was wearing a little white dress with red polka dots.

As the couple wheeled her up to the checkout counter, he turned his head toward the girl and gave her a wink. Meanwhile, he took the money from her grandparents and looked back at the girl, who was giving him the cutest, largest smile he had ever seen.

All of a sudden her handicap was gone and all that the college student saw was this beautiful girl, whose smile just melted him and almost instantly gave him a completely new sense of what life is all about. She took him from an unhappy college student and brought him into her world; a world of smiles, love and warmth.

The lighting of the pink candle of the Advent Wreath reminds us that Christmas is almost here. 

The theme of this Sunday's liturgy is joy and Saint Paul tells us to rejoice.  "Rejoice in the Lord always.  I shall say it again: rejoice!" (Philippians 4: 4)

What is joy?  The dictionary defines joy as an emotion of great delight or happiness caused by something exceptionally good or satisfying.  It is also defined as a state of happiness or felicity.  In Catholicism, joy is a state of soul equated with happiness and it is also defined as one of the fruits of the Holy Spirit. 

Joy is not to be understood as something superficial or immature.  The person who is filled with Christian joy possesses an immense treasure because the true Christian can smile and laugh even in the middle of the most terrible adversities and sufferings.  Saint Lawrence, when he was being cooked alive by his torturers, joked and told them to turn him over. 

Sadness is certainly the epidemic of our times. A lot of people are walking around without a smile on their face.  Christianity is completely opposite to selfishness, self-absorption and narcissism.  Christianity demands a radical reorientation of our personal lives.  We must be empty of all self-seeking. 

There are many things in our modern society that are causing many to live very selfish lives.  On the top of the list are five things that need to be looked at very carefully.  These five things are: the lack of personal prayer, the infrequent use of the Sacrament of Confession, receiving Holy Communion in the state of mortal sin, sexual sin and excessive television.  All five things have caused many people to become deeply self-absorbed and isolated. 

More and more people are appearing like zombies who are disconnected from their family and their friends.

Saint Thomas Aquinas listed eight Capital or Deadly Sins rather than our list of seven.  He maintained that sadness was the worse one of them all.  The famous Italian poet Dante, in his Divine Comedy, placed sadness at the lowest level of hell. 

We need to laugh and I agree that we should speak of five marks of the Church, rather than four:  One, Holy, Catholic, Apostolic and Joyful. 

If you want to experience the true joy of Christianity, be like Jesus.  Live for others and not for yourself.  Be a gift for others.  Family life is essential.  Parish family life is essential.  No man is an island.  Community is essential in order to be human and Christian. 

Fr. George Rutler wrote: "A culture trapped in its own existence becomes no greater than itself. That old maxim perdures no matter how many times it is repeated: 'A man wrapped up in himself becomes a very small package.'Â  More important than wrapping gifts in Advent, is the obligation to unwrap the self: to confess to Christ the sins that belittle his image in man, and to live life as he wants it, so that we might rejoice with him forever and never be separated from him."

Life is difficult and it is not getting any easier.  Our secular world makes every attempt to eradicate every visible reminder of the transcendent.  Moreover, most of us live very busy lives, exercising multiple tasks throughout a very intense day. 

Formal moments of total silence and contemplative prayer are necessary for anyone who wants to be a true Christian in the modern world.  Fr. Karl Rahner once wrote, "The Christian of tomorrow will be a mystic, one who has experienced something, or he will be nothing."

If we do not develop a serious life of contemplative prayer and Eucharistic life, the ever-increasing difficulties around us will crush us.  Rather than experiencing the joy which is a fruit of the Holy Spirit, we will be overwhelmed by profound anxiety and sadness.    

Life has different seasons.  Sometimes our existence moves forward like a sunny summer day.  We feel the closeness of God and our days unfold effortlessly.  But then the harshness of winter comes along.  We become overwhelmed by the apparent absence of God's presence.  Prayer becomes tedious.  People seem to bother us.  Perhaps the death of a loved one, the loss of a job, sickness, or the disloyalty of a friend brings us into the harshness and darkness of a winter day.  Nevertheless, even in these moments we can experience Christian joy. 

 Fr. Jean Vanier, the French founder of L'Arche, has had continual experience with suffering through his work with the mentally disabled.  In his writings, he maintains that darkness is important.  "We must learn to be strong and peaceful in darkness, not fighting it, but waiting.  We must learn to accept this winter as a gift from God, and we will discover that the snow will melt and the flowers come up."

Within all of the trials and tribulations that surround us, let us be patient and be filled with hope.  The dark night of purification will bring about something beautiful and pure.

"On that day, it shall be said to Jerusalem: Fear not, O Zion, be not discouraged!  The Lord, your God is in your midst, a mighty savior; he will rejoice over you with gladness, and renew you in his love, he will sing joyfully because of you, as one sings at festivals" (Zephaniah 3: 14-18).

A few years ago, a young, attractive, successful woman noticed a small lump behind her ear as she was brushing her hair.  As the days went on, she noticed that the lump was getting larger, so she decided to see her doctor.  Her worst fears were confirmed.  The doctor told her that the lump was a large tumor that would require immediate surgery.
 
When she awoke following the surgery, she found her entire head wrapped like a mummy.  She could see herself in a mirror only through two tiny holes cut into the wrapping.  Desiring to see what she looked like, she unwound the large bandage from her head and was shocked to see that her once attractive features had become disfigured by a paralysis caused perhaps by damage to facial nerves during the removal of the tumor.

Standing before the mirror, she told herself that she had one choice to make: to laugh or to cry.  She decided to laugh.  Sadly, the various therapies tried were unsuccessful in alleviating the facial paralysis. However, that decision made to laugh in the face of adversity has allowed this woman to carry on with her life with joy.

My dear friends, let us make this Christmas the best Christmas ever by making a firm decision today to rid ourselves from every behavior that causes us to be consumed by sadness. "Rejoice in the Lord always.  I shall say it again: rejoice!" (Philippians 4: 4) 
Father James Farfaglia is a contributing writer for Catholic Online and author of Get Serious! - A Survival Guide for Serious Catholics.  You can visit him on the web at www.fatherjames.org and listen to the audio podcast of this Sunday homily.

---
Copywriter 2015 - Distributed by THE NEWS CONSORTIUM
Pope Francis Prayer Intentions for October 2015
Universal:
That human trafficking, the modern form of slavery, may be eradicated.
Evangelization:
That with a missionary spirit the Christian communities of Asia may announce the Gospel to those who are still awaiting it.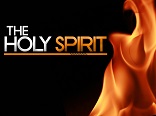 By Catholic Online
The Spirit makes one man a teacher of divine truth, inspires another to prophesy, gives another the power of casting out devils, enables another to interpret holy Scripture. The Spirit strengthens one man's self-control, shows another how to help the poor, teaches ... continue reading
---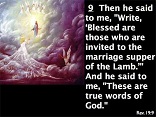 By Deacon Keith Fournier
It is not accidental that the Bible, from beginning to the end, uses marriage as a metaphor and a symbol to reveal the plan of God for the whole human race. Marriage was God's plan from the beginning as we see in the first book of Genesis. Throughout the Old ... continue reading
---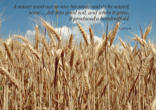 By Deacon Keith Fournier
"A sower went out to sow. And, as he sowed, some seed fell on the path, and birds came and ate it up. Some fell on rocky ground, where it had little soil. It sprang up at once because the soil was not deep, and when the sun rose it was scorched, and it withered for ... continue reading
---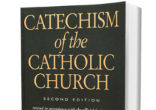 By Michael Terheyden
How we interpret the Bible is of immense importance! It directly affects what we believe about Christ, the Church, and our faith, but it is also related to many of the grave problems in our society and the world. Yet, despite the gravity of this situation, we have good ... continue reading
---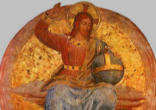 By Deacon Keith Fournier
We celebrate the Feast of Christ the King. It is one of many opportunities the Catholic Church year offers to each one of us to consider the creature called time, receive it as a gift, and begin to really live our lives differently. This is one of ... continue reading
---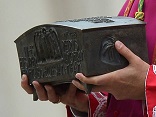 By Deacon Keith Fournier
On the Solemnity of the Feast of Christ the King, the Sunday which marks both the end of the Church Year and the end of the Year of Faith, inaugurated by Pope Emeritus Benedict XVI, Pope Francis greeted thousands of the faithful and presided over Holy Mass and the ... continue reading
---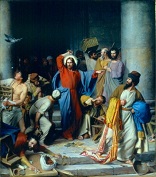 By Father Randy Sly
Becoming a House of Prayer is the best discipline we can take on. St. Ephraem of Syria states that Virtues are formed by prayer. Prayer preserves temperance. Prayer suppresses anger. Prayer prevents emotions of pride and envy. Prayer draws into the soul the Holy ... continue reading
---
By Deacon Keith Fournier
If this day you only knew what makes for peace- but now it is hidden from your eyes. For the days are coming upon you when your enemies will raise a palisade against you; they will encircle you and hem you in on all sides. They will smash you to the ground and your ... continue reading
---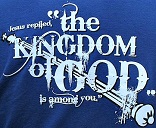 By Deacon Keith Fournier
In Jesus Christ, the Kingdom has been inaugurated. Upon his return it will be made complete and fully manifested in a new heaven and a new earth. We are members of the Body of Christ which makes it present here and now - as seed and sign for a world which is in labor. ... continue reading
---
By Deacon Keith Fournier
On this Feast of the Presentation of Mary, let us make the choice to surrender ourselves to the same Lord who Joachim and Ann honored when they presented their dear daughter in the temple. Their daughter, Mary, became the Second Eve. The New Creation was born through ... continue reading
---
All Year of Faith News