SUNDAY HOMILY: The Happy Priest on the Second Coming
---
Our consideration of the Second Coming of Jesus should fill us with a renewed sense of hope and it should instill in us an even greater urgency to be committed apostles of Jesus Christ.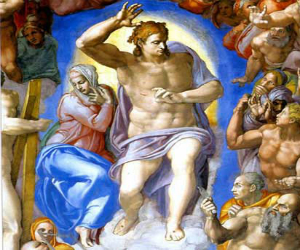 CORPUS CHRISTI, TX (Catholic Online) - By now, most of you have made your plans for Thanksgiving Day.  Some of you may even have begun your Christmas shopping.  As we begin to think about the beautiful holy days that are approaching, the liturgy of the Catholic Church is directing our attention in a different direction.
 
Another liturgical year will end with the celebration of the Solemnity of Christ the King.  As the liturgical year ends, it is interesting to note how the flow of the Catholic liturgy focuses on the theme of the Second Coming.
 
The eschatological teachings of Jesus are very clear throughout the Gospels.  We pronounce the certainty of eternal life each time we pray together the Profession of Faith.  "I look forward to the resurrection of the dead and the life of the world to come."  The particular judgment, heaven, purgatory, hell, the last judgment, and the hope of a new heaven and a new earth are the components of this fundamental teaching of Christianity.
 
Someday, yet unknown to us, this life will end and God will judge us according to our deeds.  "And many of those who sleep in the dust of the earth shall awake, some to everlasting life, and some to shame and everlasting contempt" (Daniel 12: 2).
 
Without a doubt, the trials and tribulations of our present day have caused many people to believe that the end of the world is imminent.  Even though the troubles facing our Church, our nation and the world have many times reached apocalyptic proportions, it is very dangerous to interpret these events literally through the Book of Revelation.
Let us always keep in mind the words of our Lord: "But of that day or hour, no one knows, neither the angels in heaven, nor the Son of Man, but only the Father" (Mark 13: 32).
Many people have lost hope by becoming obsessed with a pessimistic view of the events of our day.  Our consideration of the Second Coming of Jesus must fill us with joy and hope precisely because the entire mission of the Church directs our gaze toward the Second Coming. 
In the Catholic liturgy we pray: "In your mercy keep us free from sin and protect us from all anxiety as we wait in joyful hope for the coming of our Savior, Jesus Christ". 
 
In this Sunday's gospel narrative we find these words that speak to us clearly about the Second Coming: "But in those days, after that tribulation, the sun will be darkened, and the moon will not give its light, and the stars will be falling from heaven, and the powers in the heavens will be shaken" (Mark 13: 24-25).
The certainty of the Lord's return in glory and the challenges of the current time of trial must instill in us a renewed missionary spirit.  It is not permissible for any Christian to retreat because of fear. All of us must become apostles bearing witness to the one who came and will come again.  Each of us must be busy in the vineyard.  There is much to be done.
      
There is no doubt that we live in a period of history that is difficult indeed.  The suffering that has been unleashed upon humanity can be overwhelming.  Nevertheless, it is imperative that we always keep in mind that history has seen many moments of trial and tribulation. 
 
"Be not afraid".  Blessed Pope John Paul II, repeating the words of the Lord Jesus, challenged all of us at the beginning of his pontificate, not to be overcome by the apocalyptic happenings of our age.
He had personally experienced the terrible assault on humanity brought about by Nazi Germany and Soviet Communism.  He, like many of his contemporaries, has been able to understand the extent of the damage that the mystery of evil has done to humanity.  However, he showed us that our entire trust must be in Christ Jesus whose final victory over evil we await with joyful hope.
 
I am not minimizing the magnitude of the challenges that confront us.  Nevertheless, I have learned that if we truly wish to experience the joy that the virtue of hope provides, we must abandon ourselves with total confidence into the loving hands of God our Father who knows all things.
It is not healthy to be obsessed with watching the news at every moment.
Personally, I have become increasingly more peaceful when I consider the challenges of our times.  I have become more and more aware that God is in charge and that the solution to most of the problems facing humanity depends on his intervention.
 
In her book, The Open Mind, Dawna Makovra wrote, "I will not die an unlived life.  I will not live in fear of falling or catching fire.  I choose to inhabit my days, to allow my living to open me, to make me less afraid, more accessible, to loosen my heart until it becomes a wing, a torch, a promise.  I choose to risk my significance; to live so that which comes to as seed goes to the next as blossom and that which to me as blossom, goes on as fruit." 
The Church continually calls us to the new evangelization.  We are not to live in caves or on islands, waiting for the end of the world.  Even so, we must always be aware of the clash between the culture of life and the culture of death. 
As we consider the Second Coming of Jesus, I would like to suggest the same program of life that I have been preaching about throughout my almost twenty-five years of Catholic priesthood.
Pray: every Catholic needs a daily, mature and well-disciplined spiritual life.
Action: be a living member of the Catholic Church.
Focus: focus your apostolic activity.  Focus on your family, focus on your parish and focus on your local community. 
Is it better to curse the darkness or to light one candle? 
Pope Benedict XVI said: "Today many have a limited understanding of the Christian faith, because they identify it with a mere system of beliefs and values and not so much with the truth of God revealed in history, eager to communicate with man face to face, in a relationship of love with him.
In fact, the foundation of every doctrine or value is the event of the encounter between man and God in Christ Jesus. Christianity, before being a moral or ethical value, is the experience of love, of welcoming the person of Jesus.
For this reason, the Christian and Christian communities must first look to and help others to look to Christ, the true path that leads to God" (General Audience, November 14, 2012). 
 
Our consideration of the Second Coming of Jesus should fill us with a renewed sense of hope and it should instill in us an even greater urgency to be committed apostles of Jesus Christ.  
"In the night when all sound, all activity of men shall be silent, when the voices of all men and of all nations are still, may my soul, through its good works, shine out in you, O Jesus, light of the just.
In that hour when darkness like a cloak shall be spread over all things, may your grace, O Lord, shine on us in place of the earthly sun.  In that night which brings to an end the course of this world and all its activities, may our souls behold your wonders in that quiet which is more than silence.
In that hour, refreshing the weary through the sleep that lies on all men, may our minds be inebriated with your delights, O delight of all the Saints!  In that time of dark night, may a new sun arise for us.  Then let us take wing in that hope which was laid up for us in your resurrection" (Saint Eprhem the Syrian, deacon and hermit). 
Father James Farfaglia is a contributing writer for Catholic Online and author of Get Serious! - A Survival Guide for Serious Catholics. Father's book makes a great Christmas gift for the people in your life who need to get back to God. You can visit Father James on the web at www.fatherjames.org and listen to the audio podcast of this Sunday homily.  
 
---
Copyright 2018 - Distributed by THE CALIFORNIA NETWORK
Pope Francis Prayer Intentions for JANUARY 2018
Religious Minorities in Asia.
That Christians, and other religious minorities in Asian countries, may be able to practise their faith in full freedom.
---
---
Calling the saints to mind inspires, or rather arouses in us, above all else, a longing to enjoy their company, so desirable in itself. We ... continue reading
---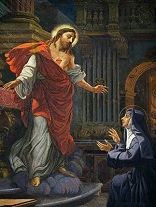 The heart is the center of a person, the place from which he/she makes the choices which will affect the world within them and around them. ... continue reading
---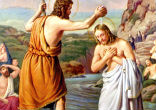 The consideration of Jesus' baptism, gives us an opportunity to remember our own baptism. If you do not know the date of your own ... continue reading
---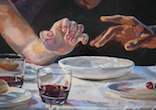 I gave my back to those who beat me, my cheeks to those who plucked my beard; My face I did not shield from buffets and spitting. HYTHE, ... continue reading
---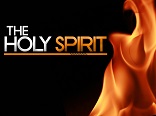 The Spirit makes one man a teacher of divine truth, inspires another to prophesy, gives another the power of casting out devils, enables ... continue reading
---