SATURDAY HOMILY: America and the Sadness of Christ
---
In "The Sadness of Christ," St. Thomas More draws an unfortunate parallel between the sleepy apostles in Gethsemane and the English bishops of his day who one after another buckled under the heavy handed mandate of the monarch. In the weeks and months ahead we must increase our prayers for the hierarchy of the Church in America so that our shepherds will remain united and unyielding to the tyrannical policies of the current administration.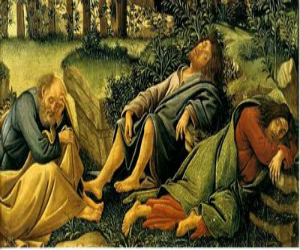 LONG BEACH, CA (Catholic Online) "But when the Son of Man comes, will he find faith on earth?" For as long as I can remember, these words of Jesus have always filled me with sadness. With boundless patience our Lord put up with ingratitude, indifference and hostility on the part of those He came to save.
He left his bloody footprints on the road to Calvary and there on that hill He died an agonizing death on the cross. He did all this for us. And yet He was and still is greeted with gaping yawns, crude mockery and outright malevolence.  In this haunting question which closes today's Gospel, we are given a glimpse into His Sacred Heart and there we behold the sadness of Christ.
No doubt all of us, to one degree or another, have experienced something of this sadness: the loving parent who suffers because a son or daughter is living a bad life; the conscientious pastor whose heart aches for the souls entrusted to his care because their own hearts have grown cold and impenetrable. But even this sadness, which is real and palpable, cannot come close to the crushing weight of the sadness of Christ.
"The Sadness of Christ" was the title that St. Thomas More gave to his final literary work. Actually, the complete title is: "The Sadness, the Weariness, the Fear and the Prayer of Christ Before He Was Taken Prisoner." More wrote this moving commentary on Christ's agony in the garden while he himself was imprisoned in the Tower of London awaiting his own death by martyrdom on July 6, 1535.
Nearly five centuries separate us from that day, but the parallels between our two epochs are painfully stark. More's work, "The Sadness of Christ," is relevant in any age because the spiritual battle is always the same. The prince of darkness and the mystery of iniquity are always at work in the world. Human beings, even those with the best of intentions, are fallen creatures prone to sin and betrayal. But the power of God and His transforming grace are infinitely greater.
When men and women surrender to that grace won by Christ's death and resurrection there is victory over the power of sin and darkness. As Father George Rutler put it recently, "Those who oppose Christ have their day, but it does not last long, and soon they also have their night, when they shrink away into dark corners."
The ungodly protagonists of the drama which led to the martyrdom of St. Thomas More (and his counterpart in the episcopacy, St. John Fisher) certainly had their day. But in the end, in addition to the trail of human wreckage they left in their wake, they also bequeathed as their legacy a decaying institution which has so often compromised the truth that there is scarcely a Christian doctrine or Gospel value that has survived intact among its canons.
Thomas More's unshakable adherence to the truth stands in bold contrast with these men who were all too ready to make deals with the father of lies. He could have easily saved his life by acquiescing to the demands of Henry VIII and recognize the monarch's illicit marriage to Anne Boleyn. He could have easily escaped the scaffold of the guillotine by merely signing the Oath of Supremacy which declared Henry the "Head of the Church." What is more, he was surrounded by well-meaning relatives and friends who tried endlessly to persuade him to take the easy way, but he steadfastly refused.
St. Thomas More, as holy and virtuous as he was brilliant, went to his death serenely and with his conscience clear. He remained absolutely unyielding to the temptation to save his mortal life at the expense of the truth. He died "the King's good servant, but God's first."
With the re-election of Barack Obama as President of the United States, every Catholic and like-minded person of faith are now facing a decision as momentous as that which St. Thomas More faced in the England of King Henry VIII.
In America we do not have a monarch, but we do have a President who has made it clear that abortion is the centerpiece of his political career. At a 2008 campaign speech he gave to officials and supporters of the world's largest purveyor of abortion, Planned Parenthood, he stated plainly, "On this fundamental issue (abortion), I will not yield."
Fact: the signature political achievement of his first term as President, commonly referred to as "Obama Care," will enlarge the already expansive reach of the multi-billion dollar abortion industry. The United States Conference of Catholic Bishops acknowledges that under this law, "Millions of American taxpayers will be forced to help support abortion coverage" (USCCB website).
Fact: President Obama's agenda is about more abortions, not fewer. His political party's abortion plank no longer reads "safe, legal and rare." Now it reads simply "safe and legal." Obama is for more abortions everywhere, not only here at home but also abroad. On the second day of his first term as president, he revoked the "Mexico City Policy" allowing once again the flow of American dollars to pay for abortions abroad. It may sound harsh to say this and upsetting to some people, but is it not counter-factual to say that President Obama, unlike any politician before him, is an abortion imperialist?
Adding insult to injury is the President's "Health and Human Services mandate" or the "HHS mandate." This part of the implementation of Obama Care will coerce Catholic educational, health care and philanthropic institutions to provide for their employees health care plans that include "services" such as sterilizations, contraceptives and abortifacient drugs, all of which the Church opposes.
If the Catholic Church's legal action against the HHS mandate loses in the courts and if the Obama government continues to refuse exemptions to churches and other faith based entities, my parish's elementary school which is located in an economically depressed area of Long Beach will have to close its doors.
August 1, 2013 is the deadline for the enforcement of this unjust mandate and then there will have arrived in the "land of the free" our own "Thomas More" moment. Will the Catholic Church in America take the easy way out and capitulate or will we resist and suffer a new form of persecution at the hands of a government we elected?
In "The Sadness of Christ," St. Thomas More draws an unfortunate parallel between the sleepy apostles in Gethsemane and the English bishops of his day who one after another buckled under the heavy handed mandate of the monarch. In the weeks and months ahead we must increase our prayers for the hierarchy of the Church in America so that our shepherds will remain united and unyielding to the tyrannical policies of the current administration.
In the aftermath of Obama's recapturing the White House, there has been considerable talk about coming together as a nation under our President in order to work toward building a better America. It's a nice thought, but really how does one go about doing that when we have a President who seems hell bent on imposing his own morally bereft views on Catholics and other believers in shameless disregard for our first and most cherished liberty, the freedom of religion?
In "The Sadness of Christ" Thomas More also recalls that while the apostles were overcome with sleep, Judas was wide awake, carrying out his carefully orchestrated plan to hand Jesus over to His enemies. Too many Catholics have grown complacent with the abortion culture that has permeated our nation for nearly 40 years. They need to be awakened from their own somnolence through the faithful preaching and teaching of bishops, priests, deacons, catechists and other leaders in the Church. Until now, with too few exceptions, our pulpits have been silent about these assaults on our faith and on our freedom to practice it. This must change.
Do not doubt it. Everything is on the line. Now is the time for us to "wake up from our slumber" (Romans 13:11) and to "strengthen our drooping hands and our weak knees" (Hebrews 12:12).
May Holy Mary, Immaculate Virgin and Mother, crush the head of that ancient serpent the devil and free us from our enemies.
-----
Fr. G. Peter Irving III is a priest of the Archdiocese of Los Angeles and is pastor of Holy Innocents Church, Long Beach.
---
Copyright 2017 - Distributed by THE CALIFORNIA NETWORK
Pope Francis Prayer Intentions for MAY 2017
Christians in Africa.
That Christians in Africa, in imitation of the Merciful Jesus, may give prophetic witness to reconciliation, justice, and peace.
---
---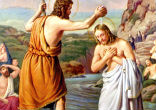 The consideration of Jesus' baptism, gives us an opportunity to remember our own baptism. If you do not know the date of your own ... continue reading
---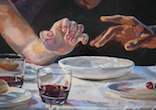 I gave my back to those who beat me, my cheeks to those who plucked my beard; My face I did not shield from buffets and spitting. HYTHE, ... continue reading
---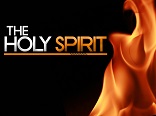 The Spirit makes one man a teacher of divine truth, inspires another to prophesy, gives another the power of casting out devils, enables ... continue reading
---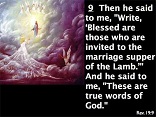 It is not accidental that the Bible, from beginning to the end, uses marriage as a metaphor and a symbol to reveal the plan of God for the ... continue reading
---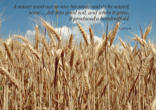 "A sower went out to sow. And, as he sowed, some seed fell on the path, and birds came and ate it up. Some fell on rocky ground, where it ... continue reading
---

Copyright 2017 Catholic Online. All materials contained on this site, whether written, audible or visual are the exclusive property of Catholic Online and are protected under U.S. and International copyright laws, © Copyright 2017 Catholic Online. Any unauthorized use, without prior written consent of Catholic Online is strictly forbidden and prohibited.