Briar Cliff Student Conductors Will Lead a Program of Choral Works
SIOUX CITY, Iowa (Catholic Online) - Briar Cliff University music majors recently presented the Student Conductors' Recital in the Chapel of Our Lady of Grace on campus. At this free public event, the following Briar Cliff student conductors led a program of varied choral works with BCU's Chamber Choir: Gabriel Alves, Recife-Pernambuco, Brazil; Christopher Hanson, Sioux City; Alexander Hoefling, Moorhead, Iowa; and Zachery Thomas, Council Bluffs, Iowa.

The recital was a culminating project in which students directly apply concepts learned in Conducting I, Conducting II and Choral Procedures courses at Briar Cliff University.

"The fact that we offer our undergraduate music majors opportunities to conduct an entire recital program with our top auditioned choral ensemble is extremely unique, not only among institutions of higher education in Northwest Iowa, but throughout the U.S.," said Dr. Sean Burton, assistant professor of music, Director of Choral Activities and division chairperson of Arts and Humanities at BCU.

Briar Cliff University is a Catholic institution with an enrollment of more than 1,150 students from 29 states and 11 countries. Students are educated in the Franciscan tradition of excellence in the liberal arts and career preparation in an environment of care, compassion and service. For more information, please visit briarcliff.edu and http://www.briarcliff.edu/departments/music/index.aspx.
---
Copywriter 2015 - Distributed by THE NEWS CONSORTIUM
Pope Francis Prayer Intentions for March 2015
Universal:
Scientists: That those involved in scientific research may serve the well-being of the whole human person.
Evangelization:
Contribution of women: That the unique contribution of women to the life of the Church may be recognized always.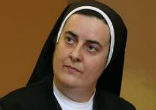 By Catholic Online (NEWS CONSORTIUM)
The Vatican Congregation for Catholic Education made history last week when it nominated a Franciscan nun as the first woman head of a pontifical university. In a position held usually by priests, Sister Mary Melone will become the rector of the Pontifical ... continue reading
---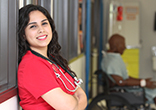 By Darnell Miller - University of St. Thomas
This May 27 nursing students, including Elizabeth Ciocco, will be the first nursing students to graduate from the University of St. Thomas in nearly 25 years. Ciocco joins 298 undergraduates and 739 graduates at the University's 64th Commencement ... continue reading
---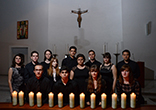 By Brenda Cooper, University of St. Thomas
A few hundred people have undergone cryopreservation procedures since 1962, having their bodies cooled to sub-zero temperatures, with the hope that one day they may be brought back to life using highly advanced technology. It's the kind of issue-along with assisted ... continue reading
---

By Catholic Online (NEWS CONSORTIUM)
It might be easier to compose a short list of people and agencies that don't want to spy on you. Adding his name to the long list, Bill Gates has proposed tracking the lives and careers of college graduates as an ongoing means to assess college value. Of course, they'd ... continue reading
---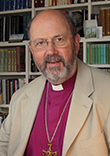 By Darnell Miller, University of St. Thomas
The University of St. Thomas is fortunate to have four outstanding speakers giving lectures on campus in the month of March. These speakers include N.T. Wright, one of the world's leading Bible scholars; Thomas Cardinal Collins, the Archbishop of Toronto; Dr. Andrew ... continue reading
---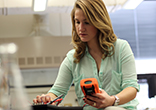 By Brenda Cooper, University of St. Thomas
In the male-dominated field of engineering, it can be difficult for women to succeed, but last year, all four graduates of the University of St. Thomas cooperative engineering program were women, and three of them were Hispanic. Dr. Sheila Waggoner said she is proud of ... continue reading
---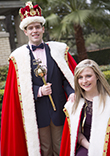 By Vivian Cabrera - University of St. Thomas
The ideal Mardi Gras king and queen should embody the University's mission to educate leaders of faith and character. With the crowning of C.J. Miller and Meredith Smith The ideal Mardi Gras king and queen should embody the University's mission to educate leaders of ... continue reading
---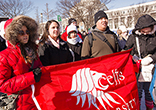 By Brenda Cooper, University of St. Thomas
It didn't matter that when 40 college students boarded a bus in Washington, D.C., the temperature was in the teens. It also didn't matter that they had spent the night on blankets and in sleeping bags in cold elementary school classrooms, sans showers, at a parish ... continue reading
---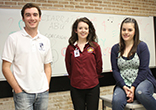 By Darnell Miller
In May 2013, merely two weeks after completing final exams, Mary Buckley, Colm Supple and Sarah Tighe, graduates from Mary Immaculate College in Limerick, Ireland, packed their bags and said goodbye to their friends, family and homeland as they journeyed 4,479 miles to ... continue reading
---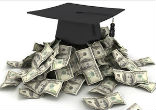 By Catholic Online (NEWS CONSORTIUM)
There was a time in America when graduating from college meant freedom and unlimited vistas. A sheepskin in the hand was the ticket to new challenges and rewarding careers. That's not true for seven out of 10 college students, who now are burdened with student ... continue reading
---
All College & University News