A must see for anyone struggling though the 40 days of Lent.
Fr. Pontifex has produced a new video, the first is a series of videos about Lent.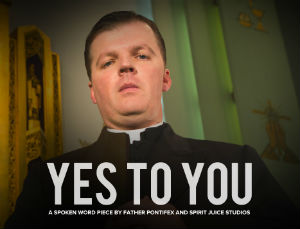 Fr. Pontifex in a promotional image from a previous production.
LOS ANGELES, CA (Catholic Online) - Watch the video and see if you're not inspired. Telling us that when we go to pray, we do not go into the desert alone, Fr. Pontifex renews our faith and our resolve during this season of preparation.

Share your thoughts with Fr. Pontifex below.

You can visit his inspiring website here.


---
Copyright 2016 - Distributed by THE CALIFORNIA NETWORK
Pope Francis Prayer Intentions for June 2016
Universal:
Human Solidarity: That the aged, marginalized, and those who have no one may find-even within the huge cities of the world-opportunities for encounter and solidarity.
Evangelization:
Seminarians and Novices: That seminarians and men and women entering religious life may have mentors who live the joy of the Gospel and prepare them wisely for their mission.

By Marshall Connolly (CALIFORNIA NETWORK)
Happy birthday to the Catholic Church! Happy birthday to you, who are the body of the Church! LOS ANGELES, CA (Catholic Online) - We're all familiar with our own birthdays, and we celebrate them because they mark the day of the year in which we entered into this life. ... continue reading
---

By Kenya Sinclair (CALIFORNIA NETWORK)
We all love to celebrate Easter with brightly colored hard boiled eggs, candy, cute pictures of bunnies and chicks and we all love to gather together to party! Regardless of how you celebrate Easter, don't forget the real reason for the holiday. LOS ANGELES, CA ... continue reading
---

By Marshall Connolly, Catholic Online (CALIFORNIA NETWORK)
The Easter Bunny is a symbol of Easter that is popular in western culture, especially with children. According to folklore, the Easter Bunny hides Easter eggs for children to find on Easter morning. However, the association between a rabbit and the resurrection of ... continue reading
---

By Kenya Sinclair (CALIFORNIA NETWORK)
On Easter Sunday, March 27, 2016, Pope Francis stood before pilgrims gathered at St. Peter's Square for the traditional Urbi et Orbi blessing. LOS ANGELES, CA (Catholic Online) - According to Vatican Radio, the pontiff stood before the packed square to speak of Jesus ... continue reading
---
By Alex Basile
Author Alex Basile reflects of the true meaning of the Resurrection of Christ and how many Christians overlook the real joy of Easter. In the haziness of the first Easter morning, Mary Magdalene made her way to tomb of her friend and teacher. Fighting back tears and ... continue reading
---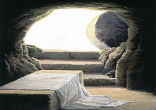 By Fr. James Farfaglia
With the resurrection of Jesus, the physical is exalted. When we truly believe in Jesus, we are resurrected in this life because we are freed from the fear and worry that are characteristic of a godless life; we are freed from the unhappiness of a life filled ... continue reading
---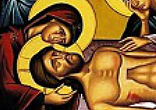 By Deacon Keith Fournier
Something strange is happening - there is a great silence on earth today, a great silence and stillness. The whole earth keeps silence because the King is asleep. The earth trembled and is still because God has fallen asleep in the flesh and he has raised up all ... continue reading
---
By Fr. Randy Sly
Just as the Chief Priests and Pharisees gathered with Pilate to plan on keeping the tomb sealed and guarded with Christ inside, many today want to place a stone in the entrance of the Church, to keep him inside again. On Holy Saturday we remember that no matter how ... continue reading
---

By Michael Terheyden
Pope Francis said something during his first general audience that inspired me to reflect on the suffering Jesus endured during his Passion for the sake of our redemption. He said, "Living Holy Week means increasingly entering into God's logic, the logic of the Cross. ... continue reading
---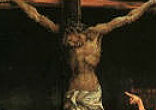 By Deacon Keith Fournier
Christ has flooded the universe with divine and sanctifying waves. For the thirsty, he sends a spring of living water from the wound, which the spear opened in His Side. From the wound in Christ's side has come forth the Church, and He has made her His Bride. ... continue reading
---
All Lent / Easter News