Fire destroyed many of the group's costumes
Maybe that's why they call it "Fat Tuesday," the day of celebration before the beginning of Lent at Mardi Gras celebrations. In Brazil, the celebrated dance troupe, the Mocidade Independente de Padre Miguel are strutting their stuff with pride - in spite of what is perceived as "negative body image" and a massive fire that destroyed the majority of their costumes.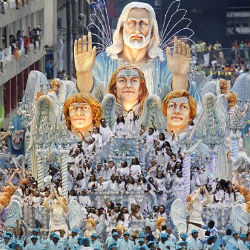 The show must go on, as even a massive fire failed to prevent Brazil's samba competition from preceding as normal.
LOS ANGELES, CA (Catholic Online) - Members of the troupe, to use a euphemism, "have a lot to show." Chubby men shake it in togas, and plump women swan about in little more than white bras and kickers. The troupe was among samba groups opening two days of Carnival parades at Rio de Janeiro's Sambadrome.
It was not all flamboyance and high spirits at the event. The Portela group lost most of their elaborate costumes and floats in a fire last month. At first, the group entered in relative silence, with its 300-strong percussion section abruptly quieting its thundering drums and crouching down in a moment of silence for its losses in the fire.
After a moment of silence for a few seconds, the drummers leaped back up with a raucous beat as Portela's thousands of members marched on to the cheers and applause of fans.
"Our community looks beautiful tonight," Portela president Nilo Figueredo said. "It is really a community of warriors."
The fire in early February raged through warehouses where Portela and two other elite samba groups were preparing for Carnival, incinerating more than 8,000 feather and glitter costumes and many of the big, meticulously decorated floats.
Portela had 3,255 outfits destroyed or severely damaged. Many wondered whether the group, which has not missed a parade in its 84-year history, would be able to put on a show at all.
It later became clear that the 2011 Carnival would be marked more than ever by the festival's quintessential ability to bring hope and happiness, even if fleeting, to those who have little. It also steeled samba group members' fierce allegiances in a city where fans are as devoted to their groups as they are to their soccer teams.
"We're ready and we're strong - no one is sitting here sad, thinking of what we lost," one member, Maria Alice Alves, clad in a metallic silver and blue outfit, said before Portela marched in.
"Our objective is always perfection," said Alessandro Meireles, a 30-year-old who has been a member of Portela's percussion section for a decade. "Even if we can't win, we're going to put on the show people expect of us."
---
Copyright 2016 - Distributed by THE CALIFORNIA NETWORK
Pope Francis Prayer Intentions for SEPTEMBER 2016
Universal:
Centrality of the Human Person: That each may contribute to the common good and to the building of a society that places the human person at the center.
Evangelization:
Mission to Evangelize: That by participating in the Sacraments and meditating on Scripture, Christians may become more aware of their mission to evangelize.

By Marshall Connolly (CALIFORNIA NETWORK)
Happy birthday to the Catholic Church! Happy birthday to you, who are the body of the Church! LOS ANGELES, CA (Catholic Online) - We're all familiar with our own birthdays, and we celebrate them because they mark the day of the year in which we entered into this life. ... continue reading
---

By Kenya Sinclair (CALIFORNIA NETWORK)
We all love to celebrate Easter with brightly colored hard boiled eggs, candy, cute pictures of bunnies and chicks and we all love to gather together to party! Regardless of how you celebrate Easter, don't forget the real reason for the holiday. LOS ANGELES, CA ... continue reading
---

By Marshall Connolly, Catholic Online (CALIFORNIA NETWORK)
The Easter Bunny is a symbol of Easter that is popular in western culture, especially with children. According to folklore, the Easter Bunny hides Easter eggs for children to find on Easter morning. However, the association between a rabbit and the resurrection of ... continue reading
---

By Kenya Sinclair (CALIFORNIA NETWORK)
On Easter Sunday, March 27, 2016, Pope Francis stood before pilgrims gathered at St. Peter's Square for the traditional Urbi et Orbi blessing. LOS ANGELES, CA (Catholic Online) - According to Vatican Radio, the pontiff stood before the packed square to speak of Jesus ... continue reading
---
By Alex Basile
Author Alex Basile reflects of the true meaning of the Resurrection of Christ and how many Christians overlook the real joy of Easter. In the haziness of the first Easter morning, Mary Magdalene made her way to tomb of her friend and teacher. Fighting back tears and ... continue reading
---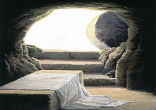 By Fr. James Farfaglia
With the resurrection of Jesus, the physical is exalted. When we truly believe in Jesus, we are resurrected in this life because we are freed from the fear and worry that are characteristic of a godless life; we are freed from the unhappiness of a life filled ... continue reading
---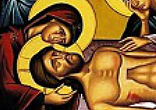 By Deacon Keith Fournier
Something strange is happening - there is a great silence on earth today, a great silence and stillness. The whole earth keeps silence because the King is asleep. The earth trembled and is still because God has fallen asleep in the flesh and he has raised up all ... continue reading
---
By Fr. Randy Sly
Just as the Chief Priests and Pharisees gathered with Pilate to plan on keeping the tomb sealed and guarded with Christ inside, many today want to place a stone in the entrance of the Church, to keep him inside again. On Holy Saturday we remember that no matter how ... continue reading
---

By Michael Terheyden
Pope Francis said something during his first general audience that inspired me to reflect on the suffering Jesus endured during his Passion for the sake of our redemption. He said, "Living Holy Week means increasingly entering into God's logic, the logic of the Cross. ... continue reading
---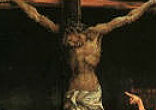 By Deacon Keith Fournier
Christ has flooded the universe with divine and sanctifying waves. For the thirsty, he sends a spring of living water from the wound, which the spear opened in His Side. From the wound in Christ's side has come forth the Church, and He has made her His Bride. ... continue reading
---
All Lent / Easter News